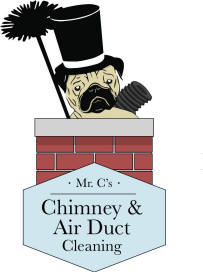 WOOD STOVES - FIREPLACES - INSERTS - PELLET STOVES - AIR DUCTS - DRYER VENTS
Mr. C's Chimney & Air Duct Cleaning is a Montana based and operated company since 1992, servicing residential and commercial clients with Wood Stoves, Fireplaces, Inserts, Pellet Stoves, Dryer Vents and specializing in Air Ducts. In the past 14 years we have directed our focus on Air Ducts, investing only in the newest and most advanced tools of the industry. Our representatives also carry camera systems, so you can be assured the job is done right.

We are proud to say, Mr. C's Chimney & Air Duct Cleaning is one of a few businesses if not the only one of our industry in the area that can state they are an accredited member of the Better Business Bureau with an A+ rating! We service Billings, MT and surrounding areas.
At Mr. C's our goal is to make it possible for every customer to get their system cleaned.
Our prices are competitive and affordable. Call us at 406-591-2130 or complete our online form for a free estimate

Licensed and Insured